All you need to make this super cool table are four cinder blocks and a board cut to size for your space. Head over to Merry Thought to see more of this awesome project!

Beautiful play table for the kids. Endless landscape possibility with a piece of chalk.

Love the idea of the chalkboard top!
Porter is a multi-purpose BBQ tray that eliminates extra trips between your kitchen and grill. Containers with lids keep raw food safely separated, while a serving platter and condiment caddy hold everything a grill chef needs at hand. This is sure to make your next cookout a blast. Such a brilliant idea! Pick up your own on Amazon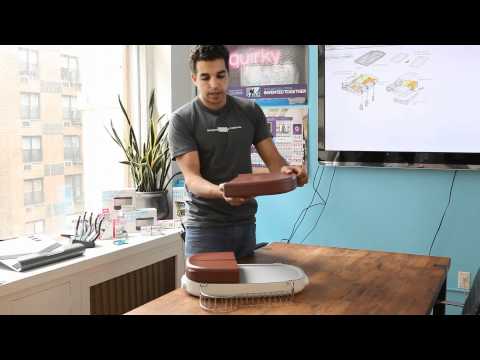 Turn a jar into a sweet picture frame vase with a little paint, sticker and picture. So cute and easy to make!
Head over to Home Stories A to Z for step by step tutorial
Click here... for mor jar DIY ideas!

These sweet and friendly cakes from Handmade Charlotte are per­fect for your lit­tle one's next birth­day!
Get these cute cake decorating tutorials in the gallery below!

Happy Birthday!

This tribal print backpack began as a pillow from India. Amazing result I must say!
Delicious Strawberry Rhubarb Rustic Tart, served with coconut whipped cream. You can fill the rustic tart with whatever fruit combination you want.
Crust:
½ Cup butter
1 Cup sunflour* (or almond flour)
1 Cup tapioca flour
3 Tablespoons coconut flour
2 Tablespoons coconut palm sugar
¼ Teaspoon sea salt
¼ Cup ice water
Filling:
1½ Cup sliced strawberries
1 Cup sliced rhubarb
1 Teaspoon pure vanilla extract
½ Tablespoon coconut palm sugar
Pinch of sea salt
Whipped Cream:
1 (14 oz) can coconut cream (refrigerated overnight)**
1 Tablespoon pure maple syrup
Head over to Hold The Grain for instructions!
You might also like: Rhubarb Upside-Down Cake, Rosemary Rhubarb Lemonade, Spiced Braised Rhubarb, Almond Rhubarb Cake - Gluten Free & Low Carb,