Recipe from ohmyveggies.com

These Vanilla Ice cubes are made with almond milk, sugar, and vanilla. So not only do they add the flavor of vanilla to your drink, they also add some creaminess and a touch of sweetness. They're perfect for iced coffee, tea, chai, or even lemonade. Alternately, you can add less sugar to the recipe (or omit it altogether) and use these cubes to chill root beer, cola, and other sodas. And if you're too impatient to wait for them to melt in your drink, you can eat them like popsicles too.
Ingredients
2 c. almond or refrigerated coconut milk

1/3 c. granulated sugar

1 vanilla bean

1 tsp. vanilla (optional--add for more intense vanilla flavor)
Instructions
Combine almond milk and sugar in a large saucepan. Slice open vanilla bean lengthwise and scrape insides into saucepan, then place empty vanilla bean into mixture. Bring to a simmer over medium heat, whisking to break up clumps of vanilla. Once mixture has come to a simmer, reduce heat to low and cook 10 minutes more, whisking occasionally.

Allow vanilla mixture to come to room temperature. Pour through a fine mesh strainer into a bowl with a spout, then pour mixture into ice cube trays. Freeze until completely solid, 3-4 hours (depending on the temperature of your freezer and size of the cubes). Serve with iced coffee, tea, or other beverages.
Notes
I've tested this recipe with almond milk and refrigerated Silk coconut milk with good results. Other people have reported using dairy milk and cream and have said that the cubes turn out well. Be aware that if you use soy milk, it's more likely to curdle when added to tea or coffee.
Article from cookincanuck.com

I'm not sure whether to call this an appetizer or a dessert because, really, it could go either way. Whether you choose to serve it at the beginning or the end of the meal, I guarantee that it will be a hit. And watch out because you, too, may become bitten by the strawberry-Brie bug.
The recipe:
Preheat oven to 350 degrees F.
Lay the baguette slices on a baking sheet. Top each piece of baguette with a slice of Brie cheese.
Bake in oven until the cheese is melted and the bread is toasted, 5 to 6 minutes.
Top each with 2 slices of strawberry, 1/4 to 1/2 teaspoon of honey and a few slices of basil. Serve.
Simply Spray Upholstery Fabric Paint is a non-toxic, non-flammable aerosol paint for use on all absorbent materials. Once applied, the paint absorbs in and does not change the feel or stiffen fabrics. It is permanent, fast drying and will not rub off once dry (suggested 72 hours).
Check out the video below to see how to paint your old sofa.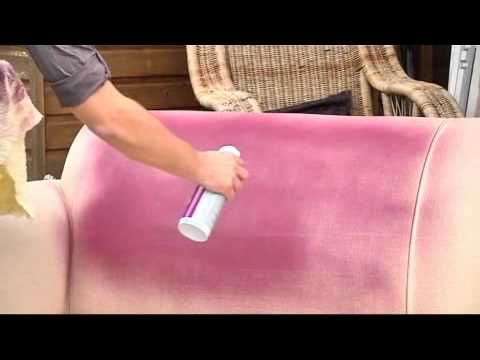 For best results, ensure absorbency of materials by testing a small area with water first and make sure material is dry, free of oils and loose dirt before painting.
Pick up your favorite color here...
Upholstery Fabric Paint will rejuvenate, restore or change the color of fabric and is recommended to change light colors deeper shade or darker colors. It can be used on sofas, chairs, pillows, carpets, curtains, lampshades, linens as well as car, boat and RV interior.
In the video below you will see how to spray on t-shirts.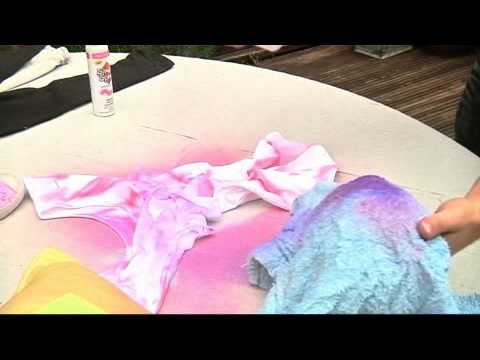 This is a simple solution to changing the color of a piece of furniture that just isn't working for you and much cheaper than buying a new chair.
Check out the gallery below the possibilities are endless!
You will need wheels from an old chair, pillow, fabric that you like & car tires.
Recipe from willcookforsmiles.com

Ingredients
(Inspired by Sugar & Everything Nice )

1 1/4 cup of all purpose flour

1 cup of bread flour

2 tsp baking powder

1/2 tsp baking soda

1 1/4 tsp of salt

3 1/2 to 4 oz of cubed, fresh mozzarella cheese

2 tbs of chopped fresh basil

1/3 cup of chopped sun-dried-tomatoes (not packed)

2 eggs

2 1/2 tbs grape-seed oil (can use extra virgin olive oil)

1 1/4 cups buttermilk
Instructions
Preheat the oven to 350 and grease an 8x4 inch bread pan.

In a large mixing bowl, combine flour, baking powder, baking soda and salt. Mix well.

Add the basil, mozzarella and sun-dried tomatoes to the four and mix until all incorporated.

In a separate bowl, whisk together the eggs, oil and buttermilk.

Pour the liquids into the flour mixture. Mix with a wooden spoon until all the ingredients are well combined. (The dough will be sticky.)

Transfer the dough into the bread pan and spread it evenly.

Bake for 40-45 minutes (until the toothpick inserted in the center comes out clean.)
This Chocolate Raspberry Cake looks delicious!
Prep time: 10 min
Baking Time: 40-50 min
Decorating/Cooling: 45 min
Chocolate Cake Ingredients
1 c water or coffee
120g (8.5 tbsp) cold unsalted butter, cut into cubes
40g (1/3 cup) high quality cocoa powder such as Valrohna
50g (1/2 cup) cake flour
300g (2 2/3 c) unbleached all-purpose flour
1 tsp baking soda
440g (2 cups) granulated sugar
2 eggs, whole
2 egg yolks
1/2 c buttermilk
2 tsp vanilla paste/extract
1 batch Chocolate Truffle Swiss Meringue frosting (below)
2 pints of fresh raspberries
4 oz semi-sweet chocolate bar, shaved into curls
Head over to Sugar & Snapshots for the full recipe and instructions.
Bottle Lock is a great idea for those who are safety conscious with their drinks. Whether you are sick of people swigging your home bar when you are on holiday or the kids have been nabbing your vodka and topping it up with water, the Bottle Lock will help keep them secure! Have you ever been to your drinks cabinet only to find the bottle that contains your favourite tipple is empty? Well now you can stop this happening again with the Combination Bottle Lock. Via Amazon