Article from thepaintedhive.net

This is one of the best DIY knobs I have seen so far. Great tutorial from Kristine.

Lemon Meringue Pie Pops with graham cracker crust, creamy lemon filling and a fluffy topping. Basically it's your own little piece of heaven–on a stick!
servings 7

Ingredients
1 box (4-serving size) lemon instant pudding and pie filling mix
1 1/2 cups half-and-half
1/4 cup fresh lemon juice
1 container (6 oz) Yoplait Original 99% Fat Free lemon burst yogurt
7 tablespoons coarsely crushed graham crackers
1/4 cup marshmallow creme
1/2 cup whipping cream
Instructions
In medium bowl, beat pudding mix and half-and-half with whisk 2 minutes. Beat in lemon juice and yogurt.

Pour about 1/3 cup mixture into each of 7 (5-oz) paper cups. Sprinkle each with 1 tablespoon graham crackers. Cover cups with foil; insert craft stick into center of each pop. (Or fill ice pop molds according to manufacturer's directions.) Freeze about 6 hours or until frozen.

When ready to serve pops, in small bowl, beat marshmallow creme and 1 tablespoon of the whipping cream with electric mixer on low speed until smooth. Add remaining whipping cream, increase speed to high and beat until stiff peaks form. Remove each pop from cup. Spread top of each with about 2 tablespoons marshmallow mixture, forming meringue peaks.
Do you need a place for your jewelry? Here is a great storage for them. All you need is a boring book, Mod Podge and a knife. Click here for the tutorial

Click on the images below to see more good ideas for your jewelry
Ingredients

7 cups water, 1/2 cup baking soda, 1/3 cup lemon juice and 1/4 cup vinegar - throw in a spray bottle and spray your floor. Let it sit for a minute or two... then scrub and clean.
Super easy to do!

Recipe from ohmyveggies.com

These Vanilla Ice cubes are made with almond milk, sugar, and vanilla. So not only do they add the flavor of vanilla to your drink, they also add some creaminess and a touch of sweetness. They're perfect for iced coffee, tea, chai, or even lemonade. Alternately, you can add less sugar to the recipe (or omit it altogether) and use these cubes to chill root beer, cola, and other sodas. And if you're too impatient to wait for them to melt in your drink, you can eat them like popsicles too.
Ingredients
2 c. almond or refrigerated coconut milk

1/3 c. granulated sugar

1 vanilla bean

1 tsp. vanilla (optional--add for more intense vanilla flavor)
Instructions
Combine almond milk and sugar in a large saucepan. Slice open vanilla bean lengthwise and scrape insides into saucepan, then place empty vanilla bean into mixture. Bring to a simmer over medium heat, whisking to break up clumps of vanilla. Once mixture has come to a simmer, reduce heat to low and cook 10 minutes more, whisking occasionally.

Allow vanilla mixture to come to room temperature. Pour through a fine mesh strainer into a bowl with a spout, then pour mixture into ice cube trays. Freeze until completely solid, 3-4 hours (depending on the temperature of your freezer and size of the cubes). Serve with iced coffee, tea, or other beverages.
Notes
I've tested this recipe with almond milk and refrigerated Silk coconut milk with good results. Other people have reported using dairy milk and cream and have said that the cubes turn out well. Be aware that if you use soy milk, it's more likely to curdle when added to tea or coffee.
Article from cookincanuck.com

I'm not sure whether to call this an appetizer or a dessert because, really, it could go either way. Whether you choose to serve it at the beginning or the end of the meal, I guarantee that it will be a hit. And watch out because you, too, may become bitten by the strawberry-Brie bug.
The recipe:
Preheat oven to 350 degrees F.
Lay the baguette slices on a baking sheet. Top each piece of baguette with a slice of Brie cheese.
Bake in oven until the cheese is melted and the bread is toasted, 5 to 6 minutes.
Top each with 2 slices of strawberry, 1/4 to 1/2 teaspoon of honey and a few slices of basil. Serve.
Simply Spray Upholstery Fabric Paint is a non-toxic, non-flammable aerosol paint for use on all absorbent materials. Once applied, the paint absorbs in and does not change the feel or stiffen fabrics. It is permanent, fast drying and will not rub off once dry (suggested 72 hours).
Check out the video below to see how to paint your old sofa.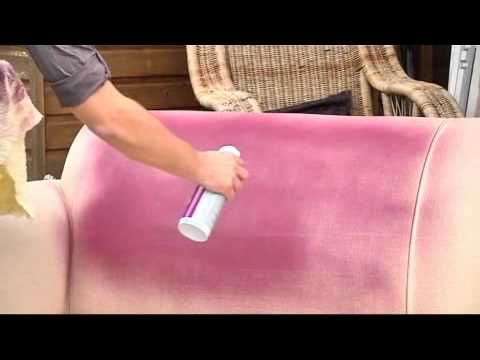 For best results, ensure absorbency of materials by testing a small area with water first and make sure material is dry, free of oils and loose dirt before painting.
Pick up your favorite color here...
Upholstery Fabric Paint will rejuvenate, restore or change the color of fabric and is recommended to change light colors deeper shade or darker colors. It can be used on sofas, chairs, pillows, carpets, curtains, lampshades, linens as well as car, boat and RV interior.
In the video below you will see how to spray on t-shirts.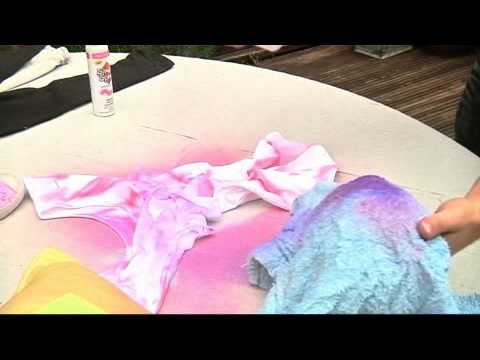 This is a simple solution to changing the color of a piece of furniture that just isn't working for you and much cheaper than buying a new chair.
Check out the gallery below the possibilities are endless!