A wonderful recipe from ahouseinthehills.com
INGREDIENTS:
5 peaches
1 can coconut milk (full fat of course!)
1/3 cup roughly chopped pistachios
7 tablespoons succanat sugar
METHOD:
- in a vitamix or similar blender combine 4 peaches (pitted and halved), 1 can of coconut milk, and sugar.
- blend until peaches are liquid
- transfer to a bowl and refrigerate for at least 2 hours
- rough chop remaining peach and pistachios
- add peaches and pistachios to mixture and pour into ice cream mixer.
- follow instructions on your ice cream maker

- serve with chopped pistachios, eat immediately!
- store leftovers in an airtight container in the freezer and let sit for 5- 10 minutes before serving
So easy to make! Take a look at the pictures that really says it all!
Now just leave it to dry and they are ready to be used in any kind of decoration.
You don't always need to spend a lot of money to have a nice work of art hanging on your walls!

Here you can find lots of DIY wall art

Wrap two bricks in a beautiful wrapping paper or fabric to create bookends that match your decor!
Diy Animal bookends. See here... step by step tutorial

Plastic toys glued to wood blocks and spray painted
Bricks Painted to Look Like Books for the Best Bookends Ever. Via...

DIY: Telephone Bookends. See here... step by step tutorial

Dinosaur bookends. Via tutorial

World's First Virtual Shopping Store opens in Korea. All the Shelves are in fact LCD Screens. User Choose their desired items by touching the LCD screen and checkout at the counter in the end to have all their ordered stuff packed in Bags.
Shoppers see the items on the shelves as if they were in a grocery store. If they want to purchase them, they simply scan the barcode with their smartphone (after downloading the app) and the item is placed in their online shopping cart. Once they've paid, they simply drive home and the items they bought are delivered to them right away. They can even schedule a later delivery if they aren't going straight home.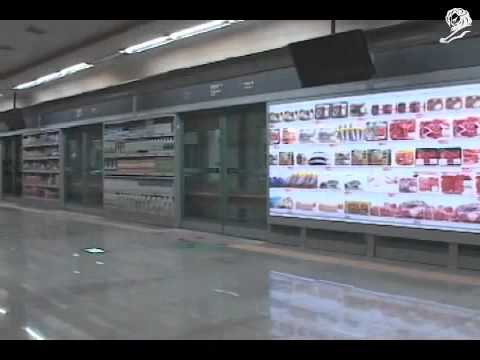 These healthy Raspberry Coconut Chia Pudding Pops are on our must make list this summer!
Makes 4 popsicles.

• 1/2 cup lite coconut milk
• 1/2 cup unsweetened almond milk
• 3/4 cup raspberries
• 2 tbsp chia seeds
• 1 tbsp sweetened shredded coconut
• 8 drops Nu-Naturals liquid stevia (or sugar/honey to taste)

Combine all ingredients in a large container. Mix well and close container; refrigerate 4 hours so the chia expands. Pour into 4 popsicle molds and freeze overnight.
Source: skinnytaste.com

Watch the video and learn how to wrap your own hot summer dresses! Perfect for summer days by the pool and on the beach!