This is a really pretty and practical way to store all your favorite sunglasses all in one area. See how it's done in the video below!

Make sunglass display using IKEA LĂ"MPLIG Trivet (cooling rack). Via...
Multipurpose Glass Boxes. Via...

DIY Sunglass Display. Via...
An apartment dweller's closet tour. See here...

Keep yourself organized—and your shades safely displayed—with this sunglass holder project. It's an easy DIY that takes just a few supplies and little skill. Give it a try! Tutorial...

DIY Wooden Bungee Organizer. Via tutorial on Brit+Co
Watch this video below to see how to make this quick and easy eye glasses or sunglasses holder from a plastic egg carton.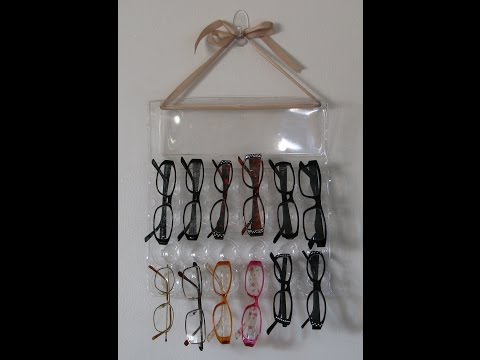 Memo frame & sunglasses holder. Via tutorial

Every closet should have this! Via...
Postcard display eyeglass holder. Via...

Colorful sunglasses holder. Via...
Keep your earrings, sunglasses and scarves in one easy-to- find and awesome-to-look-at place. Tutorial...

Store and display your sunglasses in this neat wall organizer that takes up NO tabletop space! It's super easy to make and pretty to look at too!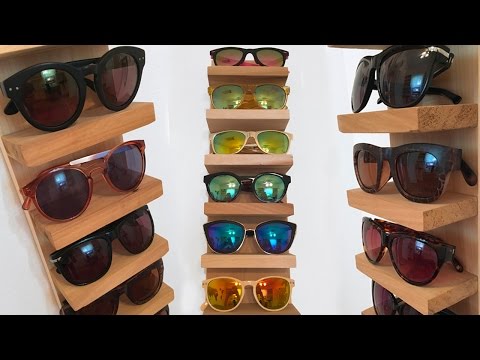 Best part about this, is that you can also organize and hang your accessories off the wire too. Tutorial...

Eyeglasses Case Display. Via...

Every purse should have sunglass holder!
Mr. Musta Glasses Holders. Via...

Pinocchio eyeglasses holder. Via...

Wooden sunglass display/holder. Via Etsy

Love the sunglass display shelves! Via...